DARE TO BE A SINNER
Deadly Sins Cosmetics supports individuals to be themselves by offering original products that are ethically sourced without the use of animal products.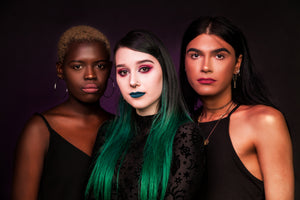 VEGAN IS BEAUTIFUL
All of our product line is 100% Vegan and Cruelty-Free and always will be. 
We promote uniqueness, creativity, and we encourage our Sinners to express themselves in a way that they're comfortable. 
ABOUT US
BLOG
---
In a world where self-expression knows no bounds, Deadly Sins Cosmetics has emerged as a champion of individuality and creativity. As the proud sponsor of the prestigious Miss Ink Australia...